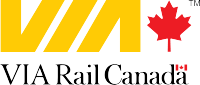 As Canada's national rail passenger service, VIA Rail Canada is mandated to provide safe, efficient and economical passenger transportation service, in both official languages of our country. VIA operates intercity and regional, and safely transports nearly four million passengers annually. The Corporation was awarded seven Safety Awards by the Railway Association of Canada over the last eight years, and is recipient of the 2012 Agent's Choice Award voted by Canadian travel agents and presented by Baxter Travel Media.
VIA Rail Intercity Service (Corridor)
The Corridor route travels from Windsor, London, Toronto, Kingston, Ottawa, Montréal to Québec City, providing frequent, convenient service between these diverse cities for business and leisure travelers. From city to city, season to season, the shifting vistas beyond the window are certain to complement a relaxing and memorable journey. VIA Rail's corridor services provide a glimpse into the diversity of Canadian culture while showcasing one of the most popular regions in the country. From a lovely day excursion to Niagara Falls, one of the Seven Wonders of the World to an extended trip to Toronto, Ottawa, Montréal, Québec City or any number of cosmopolitan cities that are just a short train ride away, the best way to experience the unique landscapes and colorful culture of this area is with VIA Rail. With over 370 weekly departures in the Corridor alone, travelers have the flexibility to create their own getaway and the possibilities are endless.
Products