Temporarily Unavailable
Please check back soon
About
JR-EAST and JR-WEST offer this 7 Consecutive day pass valid for travel in the Hokuriku region. Customers can travel between Tokyo and Osaka, including popular stops such as Kyoto, Kobe, Nara, Kansai Airport, Fukui, Kanazawa, Toyama, Haneda Airport and Narita Airport.
Destinations
Limited express trains (Shinkansen included), express trains, and local trains between Narita and Haneda Airports, the Tokyo Metropolitan area, the Hokuriku area, the Kansai area, and Kansai-airport.
Narita Express limited express train in the free usage area
The Tokyo Monorail between Haneda Airport Terminal 2 and Hamamatsucho
The Hokuriku Shinkansen between Tokyo and Kanazawa Thunderbird limited express between Kanazawa and Osaka
The Haruka limited express between Shin-Osaka/Kyoto and Kansai-airport. Reserved seating can be used.
JR lines in the Tokyo Metropolitan District, JR lines in the Keihanshin area (Osaka, Kyoto, Kobe and Nara)
The Etsumi-Hoku Line, Nanao Line, Himi Line, Johana Line, Takayama Main Line (between Toyama and Inotani) Oito Line (between Itoigawa and Minami-Otari)
IR Ishikawa Railway, Ainokaze Toyama Railway, and Noto Railway
Map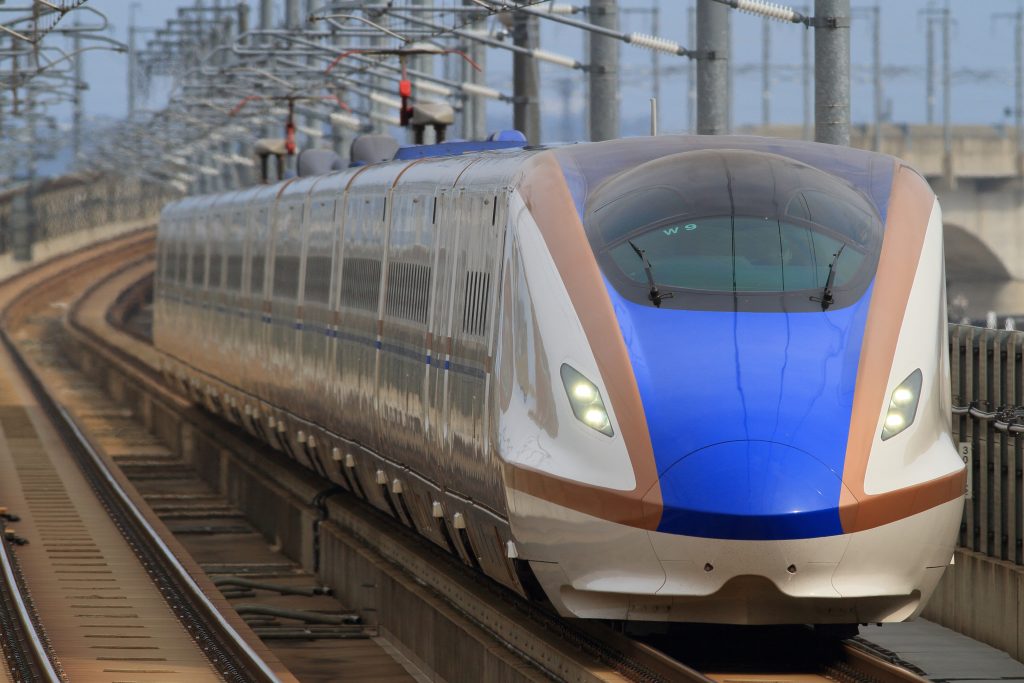 Hokuriku Arch Passes are available as follows:
Standalone sales (ticketed on 9B plate) are possible in these BSP/ARC markets:
ARC USA
BSP Australia
BSP Austria
BSP Belgium/Netherlands/Luxembourg
BSP Canada
BSP Czech Republic
BSP Finland
BSP France
BSP Germany
BSP Hong Kong
BSP India
BSP Indonesia
BSP Ireland
BSP Italy
BSP Macao
BSP Malaysia
BSP Mexico
BSP Norway
BSP Scandinavia – Open in Sweden, Denmark, Estonia, Latvia and Lithuania.
BSP Singapore
BSP South Korea
BSP Spain
BSP Switzerland/Liechtenstein
BSP Taiwan
BSP Thailand
BSP UK
BSP Vietnam
GDS Participation
Abacus
Amadeus
Apollo
Galileo
Sabre
Worldspan
Eligibility
Anyone who possesses a passport issued by a country other than Japan and enters Japan with the status of Temporary Visitor.
Train Range
Booking Classes
Y – Standard Class / 'Ordinary Class'
Discounts
Children under 6 ride free if no seat is required.
Groups
No group bookings allowed. Up to 99 passengers with unique names can be issued on the same PNR
GDS Availability Display
The image below identifies available train flights bookable with the Hokuriku Arch Pass:

PNR Booking
The image below is a PNR booked on the GDS by a travel agent.

SSR CTCE
When issuing on 9B/450 plate please use " SSR CTCE" format at the booking time in order to communicate PAX email address to 9B so that 9B could send an email 72 hours to departure reminding passenger about compulsory check-in on
accesrail.com
.
Refunds
Passenger may obtain a refund for the Exchange Order at the office or travel agent that issued it within one year from the issue according to the regulation of each sales office. The type of Exchange Order cannot be changed after arrival at Japan. After exchange into a Hokuriku Arch Pass, it can be refunded at the nearest exchange office in Japan only within the validity period and before the first date of use, with a 10% handling fee deducted from the refund. No refund can be made for any reason after the first date of use.
Exchange instructions
When the passenger arrives in Japan, they must use their Exchange Order to receive the actual Hokuriku Arch Pass. The passenger will need to show a valid passport with the entry status of "Temporary Visitor" (permission to stay in Japan for up to 90 days). The exchange must happen within 3 months from the Exchange Order issuance. List of Exchange Offices: Please refer to the Hokuriku Arch Pass Website for the locations of exchange offices.
Travel documents
Once the Exchange Order e-ticket has been redeemed for the actual Hokuriku Arch Pass, the passenger can use the pass for 7 consecutive days from the first day of use. The pass must be used within one month after exchange.
Period of Validity
Consecutive 7 days. The pass must be used within one month after exchange.
Seat Reservations
Hokuriku Arch Pass holders can reserve seats on Shinkansen services, limited express trains, and other trains without an extra charge. Visit the
Hokuriku Arch Pass official website
for details. *Seats are limited, so please make your reservation as early as possible. *You can reserve seats on trains up to 1 month prior to the date of your journey. To reserve a seat at a station, insert the rail pass into the JR East & West Reserved Seat Ticket Vending Machines (Note that some rail passes issued at certain ticket office will not support this service. Seat reservations are still available at ticket counters as well).
Baggage policy
Travelers bring their own luggage on the train and must be able to handle their own luggage without assistance, within the following:
up to two pieces of baggage on board free of charge.
– for each bag the total of the length, width and height must not exceed 250 centimeters, the length must not exceed two meters and the weight must be no more than 30 kilograms.
Airport Transfers
From Kansai International Airport:
The Hokuriku Arch Pass is valid for travel on the Kansai-Airport Express "HARUKA" train (reserved seat). Click here for more information on destinations from Kansai International Airport.
In order to obtain their Hokuriku Arch Pass valid on the HARUKA train, passengers should first present themselves at the JR Ticket Office (Midori-no-Madoguchi) at Kansai International Airport.