BeNe Netherlands – Belgium
About
The InterCity Brussels -Amsterdam E-ticket is offered as air-rail interlining and standalone booking with AccesRail 9B/450. Since this train serves both Brussels Airport and Schiphol Airport, this train is a perfect fit for airlines flying into both BRU and AMS.
Destinations
The chart below demonstrates many of the great routes available between The Netherlands and Belgium. Please note that only international routes are available for booking.
| Station | IATA | Travel time | Total travel time |
| --- | --- | --- | --- |
| Brussels Midi (ZuiD) | ZYR | 0:24 | 0:24 |
| Brussels Airport | BRU | 0:48 | 1:12 |
| Antwerp Central | ZWE | 0:20 | 1:32 |
| Breda | QRZ | 0:30 | 2:02 |
| Rotterdam Central Station | QRH | 0:30 | 2:32 |
| Schiphol Airport | AMS | 0:15 | 2:47 |
| Amsterdam Central Station | ZYA | 0:17 | 3:04 |
Map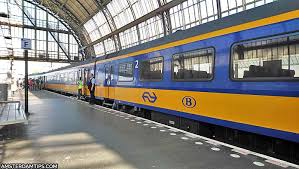 InterCity Brussels E-tickets are available as follows:
Standalone sales (ticketed on 9B plate) are possible in these BSP/ARC markets:
ARC USA
BSP Australia
BSP Austria
BSP Belgium/Netherlands/Luxembourg
BSP Canada
BSP Czech Republic
BSP Finland
BSP France
BSP Germany
BSP Hong Kong
BSP India
BSP Indonesia
BSP Ireland
BSP Italy
BSP Japan
BSP Macao
BSP Malaysia
BSP Mexico
BSP Norway
BSP Scandinavia – Open in Sweden, Denmark, Estonia, Latvia and Lithuania.
BSP Singapore
BSP South Korea
BSP Spain
BSP Switzerland/Liechtenstein
BSP Taiwan
BSP Thailand
BSP UK
BSP Vietnam
GDS Participation
Abacus
Amadeus
Apollo
Axess
Galileo
Infini
Sabre
Sirena Travel
SITA
Travel Sky
Topas
Worldspan
Eligibility
Train Range
Booking Classes
| Second Class | First Class |
| --- | --- |
| M-Class | C-Class |
In C – class, you will benefit from additional advantages, such as greater comfort and:
More legroom
Wider seats
Access to the NS International Lounges at Amsterdam Central Station, Schiphol and Rotterdam Central Station
Auto Cancellation of Booking
If booking not ticketed 24 hours before departure, the booking will be auto cancelled.
Discounts
SSR CTCE
When issuing on 9B/450 plate please use " SSR CTCE" format at the booking time in order to communicate PAX email address to 9B so that 9B could send an email 72 hours to departure reminding passenger about compulsory check-in on accesrail.com.
Refunds:
Before departure: 15% penalty until 24 hrs to departure
Within 24 hours to departure and after Departure: non refundable
Requests for refunds must be initiated at the point of sale.
Groups:
No group bookings allowed. Up to 36 passengers with unique names can be issued on the same PNR
Check-in
Earliest 72 hours before train departure, the passenger will have to check-in at www.accesrail.com to print the InterCity Brussels ticket. At time of booking, please inform the passenger to keep the PNR locator or e-ticket number handy to facilitate check-in.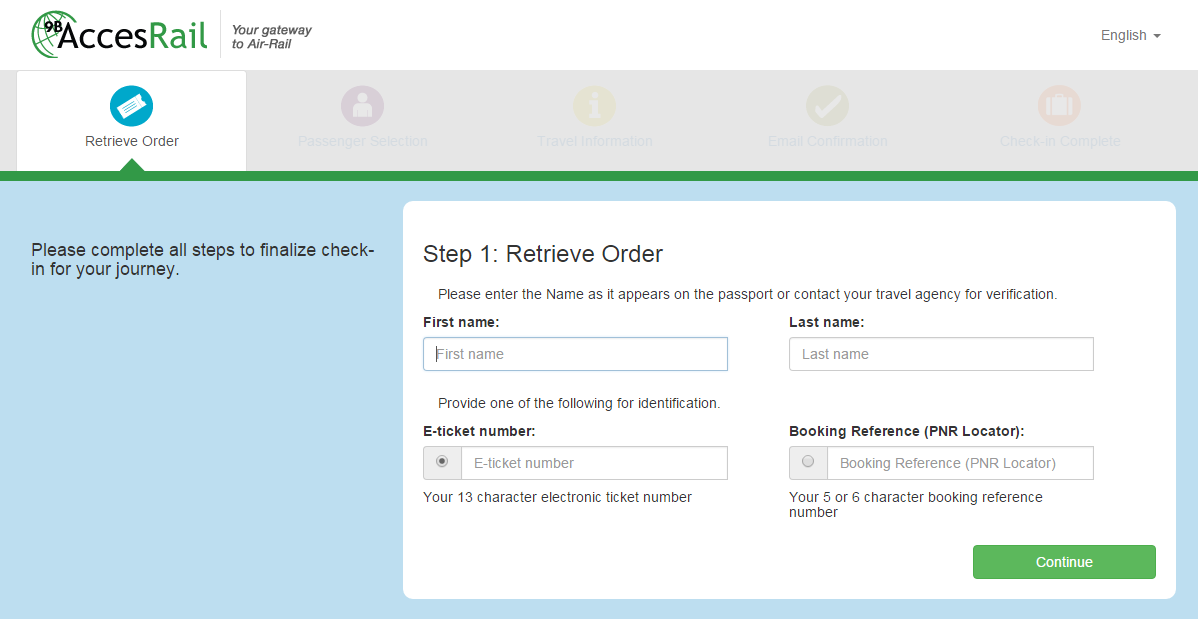 Passenger enters his/her first and last name and one of the following: PNR Locator or; e-ticket number.

Passenger prints the travel document, which is required for boarding.
Passengers can also check in with customer service agents at the AirRail desk located at stations where the InterCity Brussels – Amsterdam have regular stops.
Travel documents
At the time of purchase the travel agent issues the e-ticket and receives the ticket pickup number via Special Service Request (SSR). To retrieve their actual travel document, passengers must check-in prior to boarding the train. View sample travel documents.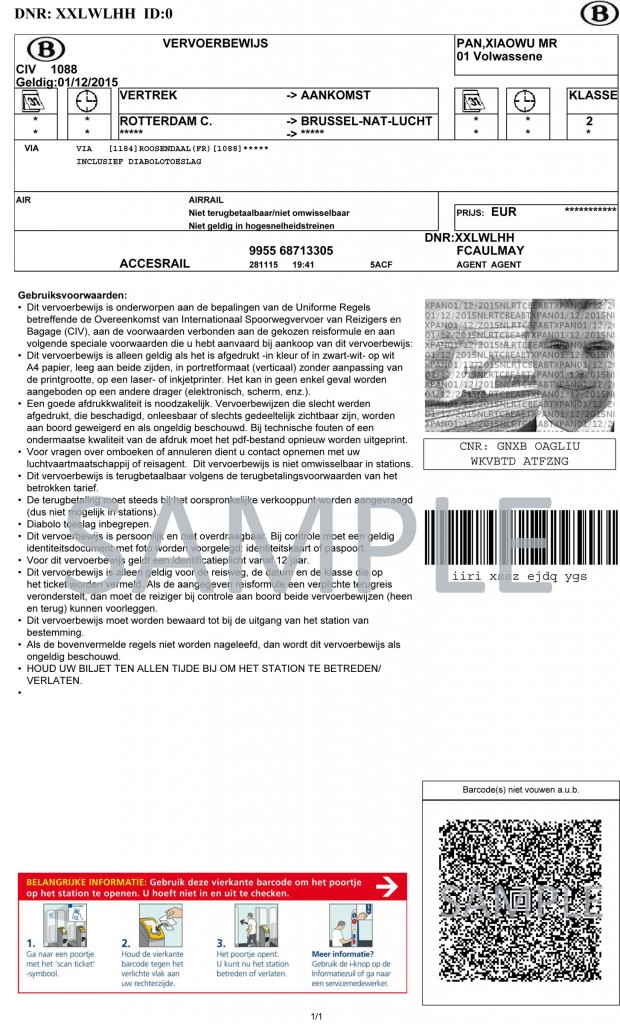 Period of Validity
Valid for travel on the date indicated on the boarding pass.
Seat reservations
Seat reservations are not available. Passengers may occupy a vacant seat in the appropriate class as indicated on their ticket.
Baggage policy
Passengers are advised to only take luggage that they can easily carry on board and that can be placed in the storage spaces provided. Small-sized luggage can be placed in the luggage racks above the seats and there are special spaces between the seats for the larger luggage items.
Airport Train Stations
How to get to Brussels Airport Station
Direct departures from Brussels Airport Station BRU are convenient as the airport train station is located below the terminal (basement level-1). Keep your train ticket on hand upon arrival at Brussels Airport. See the Brussels Airport map.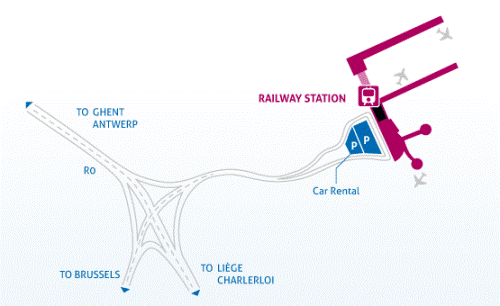 Automatic Ticket Access Gates
Brussels Airport's train station and stations in the Netherlands have automatic ticket access gates. Below, we explain how to scan the square barcode on your ticket at the automated access gates upon arrival or departure by train.

How to get to Amsterdam Schiphol Airport Station
Schiphol's Airport train station is located on the underground level of the airport. You can pick up a free baggage trolley from the platform. Via Schiphol Plaza, you can walk straight to the departure or arrival hall. See the Schiphol Airport map.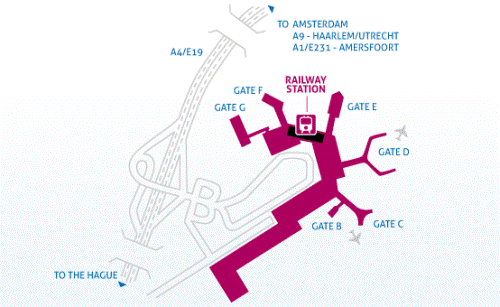 Terms & conditions:
Tickets are available for international rail travel between the Netherlands and Belgium provided by BeNe – Netherlands Railways and SNCB- Belgian Railways. Please note that AccesRail tickets are not valid on Thalys trains. Please note that local services in the Netherlands or Belgium cannot be booked. Tickets to/from Brussels Midi are also valid to/from Brussels Central and Brussels North Stations.
FAQ
What if the passenger misses their train connection?
The ticket is valid for travel on any available service on the date specific on the ticket.